Lisa and Pete were married at the Millennium Resort in Scottsdale. Quite simply, they're lovely people. When we arrived, there was this wonderfully comfortable, peaceful and happy atmosphere. We walked into the bridal suite to find a surprisingly calm and radiant Lisa. Pete was helping Tyler get ready- so cute- I'm such a sucker for little guys in tuxedos (Pete looked okay too 😉 )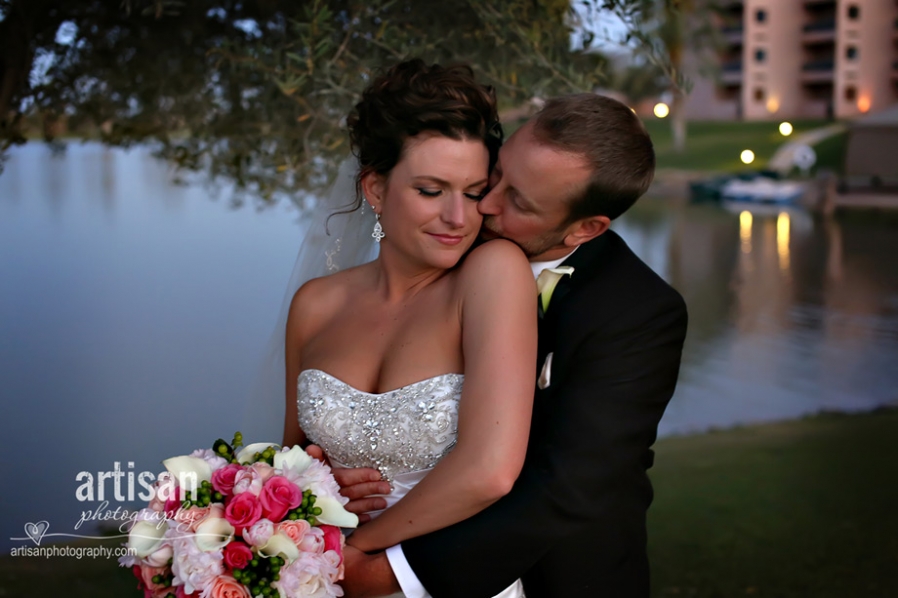 This is why I love weddings so much, the LOVE in the air, the ritual, the happiness, the festivity. To be a part of such an important day in people's lives really is an honor and to be a part of Lisa and Pete's wedding day was amazing; it was everything a wedding is supposed to be. Their vows were so fitting and genuine, they made me cry and I normally don't cry at weddings.
From Pete's vows:
"… We are truly the right 'fit' for one another; I am the peanut butter to your jelly, we belong together… I will bring to you the very best of me, to bring out the best in us, and the best in the children that we cherish…"
From Lisa's vows:
"… together we will raise our family and create a home filled with kindness, honesty, laughter, and mutual respect, a place where we support and encourage one another in the spirit of love that surrounds us today…"
I loved their vows, such simple words, yet so meaningful. Sometimes it's the simple things in life that are the most extraordinary. Watching them share these vows reminded me of a quote (that I'm too lazy to Google who said it right now).
You have succeeded in life when all you really want is only what you really need.
This wedding was a wonderful success for Pete, Lisa and their new family; truly a "celebration", in every sense of the word. A fantastic day shared with great loving friends and family.
Congratulations Lisa and Pete!!!!